2116
« on: May 30, 2012, 04:14:27 AM »
Okay, it looks like the control voltage is swinging as it should between a +ve value and a -ve value, so how does the actual FET signal switching work?
In this circuit
both
FET's are either on or off, and the switching occurs because one, Q1 (ref: C50), is in shunt across the clean signal path, and the other, Q2 (ref: D5), is in series with the drive/crunch signal path and breaks it when off - and seeing you are stuck in "crunch" that is what isn't happening; it's on all the time. The clean FET Q1 may be switching okay because the crunch path would be expected to dominate.
The action happens when the control signal goes negative, so you need to confirm that the negative control signal is getting to the gate of Q2 via D5 (that D5 isn't open circuit), and if so that the FET source, connected to the following op-amp U2-B pin 6 is at ground potential. If so then the FET
should
be switched off, and if it isn't it's duff and should be replaced.
What with? Well ideally a J111, but as a switching function it's hardly critical and just about any N-channel Junction FET like an MPF102, 2N3819, or whatever you can get hold of, should do the job, just watch the lead arrangement.
J111 connections
MPF102
The same as J111
2N3819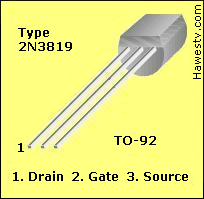 Gate and Source transposed to a J111, must be crossed over without shorting.