Hi all.
I'm a newcomer and after modding up a DOD FX50B I began playing the thing through some amps and finally got to my little Fender Frontman 15 which we all know are not "quality" amps.
That being said, I won't sell it and got to think about modding it up:
1.- Adding a reverb tank. It has the circuit printed, so... could I just solder the missinf components and build a tank using some spring and transducers?.
2.- Removing the leds. I'm not sure about this one, but Youtube says that removing the clipping leds in a Vox Pathfinder 10 provides more volume a better gain tones...
3.- Adding an external speaker jack. It has one on the front panel but it disangages the internal speaker, which is plain crap, but could I run a cable from the stock speaker's + to the + of that jack and the same for the - connectors so I could drive both speakers in parallel?.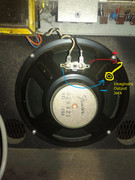 I'd start by number 3. Can that be done?.
Thanks in advance!.