1
« on: February 09, 2010, 04:16:59 AM »
I figured this was the best section for this post. If it's not, I apologize and can repost it where it is appropriate.
This is something that's been occupying my thoughts for a while. Off and on, I've been looking at datasheets, jotting down notes, doing bits of math and generally mulling things over. I figured it would help to put my thoughts down in writing where people smarter and more experienced than myself can off their input and comment if they want. The point of this isn't try to prove how the valve sound or solid state sound is inherently superior or more desirable, but focusing more on
why
they are different and assuming one wants to accurately replicate a valve sound with solid state parts, how that might be achieved. I know this has been discussed before, if not here, then plenty times elsewhere. It probably sounds like I'm about to start beating a dead horse and parroting the same out-of-context half-truths that abound on the Internets. For that, I apologize. I'm only posting this because I've made a few observations I believe
haven't
been discussed to death. Though I warn I may still ramble a bit.
So there's two tube types commonly used in guitar amps, triodes and pentodes. Pentodes are commonly used in the output stage for their greater capabilities. Triodes are commonly used in the preamp. There's exceptions, but that's the norm. Both are voltage-controlled - no appreciable amount of current in the control grid during normal operation. In fact, current on the control grid is a bad thing unless you like a hard, sudden clipping on the positive swing of your signal (Makes for a great crunchy distortion!
). You probably knew that already.
There's two main types of transistors, BJTs and FETs. FETs are like tubes in that they're voltage-controlled devices. I don't know that any appreciable current flows in the gate in a JFET during normal operation, and I can't see how current can flow at all in a MOSFT, what with that insulated gate and all. Bipolar transistors however work with current. It's the changes in the current from the emitter to base that causes changes in the current from emitter to collector. Again you knew probably already knew that.
Transistors and pentodes have similar output characteristics. Look at the graphs in the datasheet for your favorite BJT, FET and pentodes. The curves have a very similar shape. They all sprout up from 0V/0I, shoot up sharply, then bend sharply or softly after a small portion of the max voltage and swing almost horizontal.
Here's a FET...
...here's a BJT...
...and here's a pentode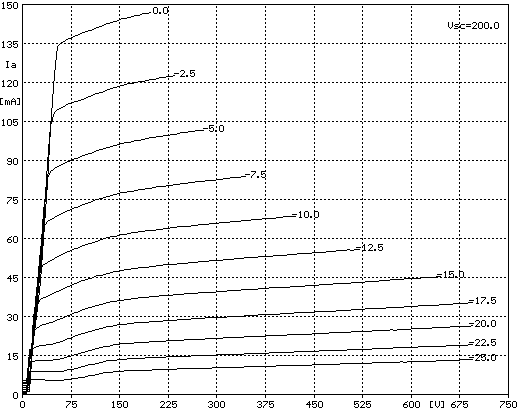 So we have a SS equivilent of the pentode -- the FET. Cool. Of note is how the curves are mostly horizontal after a small fraction of the output voltage. After the knee of each curve, a change in input voltage is going to affect more change in output current than it will in output voltage -- a low internal output resitance. That's why a pentode makes for as such a great output tube, poor damping characteristics of a low output resistance notwithstanding. A huge voltage swing is nice, but without current capability to back up that voltage swing, getting some decent output wattage and driving a loudspeaker is gonna be harder.
So high current capability is desirable on the output of the amp, but what about on the input of the amp, in the preamp? Here we want voltage gain and lots of it. The output signal of a guitar pickup is of so little current and voltage that it doesn't take much attenuation to kill it entirely. give a .1Vp guitar signal a gain of 100, and now we a have a voltage swing that's much easier to work with. We can play with its frequency content to make it sound prettier, compress it so it's levels are more even and easier to work with, clip it for some crunchy sounds, and bring the voltage swing up high enough that with some current behind it a la the power amp/output section, can drive a loudspeaker.
Yes, that's nice Koreth, congrats on finally getting guitar amps 101. Now go put your newfound understanding to use and go build a Noisy Cricket already. Do you have a point, or are you just rambling?
Yes there's a point. We need voltage gain in our guitar preamp. Enter the triode. The curves for the output characteristics of a triode stretch more vertical than they do horizontal. A change in input voltage gives more voltage swing than current swing. Yes, a pentode can be made with with far more gain than a triode (the upper limit for a triode is about 100µ, pentodes can get over 1000µ.) But a pentode also costs more, is more prone to noise and microphonics (more active elements to go wrong). and requires a more complex circuit. We don't need a gain of 1000+µ in our preamp, plus noise and microphonics are Bad Things™ in a preamp. So if we could use a tube that requires less external parts, gives us the gain we need, isn't as prone to noise and microphonics, and on top of all that, costs less to boot, why wouldn't we? I suspect this is why the triode is the common preamp tube. It could also be that everyone is simply copying Leo Fender, and Leo was simply copying the RCA handbook, but that's another discussion.
The point being is that unlike the pentode and his SS brother, the FET, there is no SS analogue of the triode. Maybe the Trioderizer counts. (
http://radiomuseum.org/forum/the_trioderizer_a_solid_state_triode.html
). Put some local negative feedback on a MOSFET and it starts to behave much more like a triode than a pentode (the SS verson of Ultralinear mode maybe?) But with only 10 hits on Google, either nobody cares, or there must be some fundamental problem with it that keeps it from seeing more widespread use in SS designs trying to cop a valve sound. So without a SS equivalent to the triode, where do we get our voltage gain for our preamps? I see opamps in a lot of schematics. Op Amps are great for the application. They have downright stupid amounts of gain available, so much we have to use local negative feedback to get the gain down to a useful level.
Problem being is that especially with all that negative feedback improving it's operating characteristic, an Op Amp is really linear across the range of audio frequencies, AFAIK. But linear is good! We want linear! Harmonic Distortion BAD! Yes, and all this linearity is probably why a not insignificant portion of the guitar playing populace prefer tube amps to SS amps. An SS amp can be
too
accurate. The mysticism and some sort of placebo effect surrounding tubes aside, their imperfections apparently can color and distort the sound of a guitar in a pleasing way for some people.
Great, it's two in the morning I'm tired and just realized I've just spent over a thousand words running in a giant circle without coming to a point. There's one, I promise. I'll post it later when I'm rested. It involves the nonlinearities of a triode.
People smarter than me are welcome to point and laugh at the rambling newb now.